« AUSTRALIA • Tours & Travel • New South Wales • Sydney
Sydney Tours, Travel & Activities
Home to the largest population in Australia, the capital of the state of New South Wales has come a long way since its 18th-century days as a British penal colony. Sparkling clean and beautifully manicured, the modern-day city takes pride in its lush parks and botanic gardens, wide beaches and 1800s architecture. And with the distinctive Opera House as its icon, Sydney serves as the cultural center of the entire continent.
» Sydney Air & Helicopter Tours
Fly over beautiful Sydney Harbour by helicopter for a bird's-eye view of Sydney. Your expert pilot will provide informative commentary on all the sites as you soar through Sydney skies for approximately 20 minutes. You'll have the best vantage point of Sydney and its sparkling blue harbor, 1,000 feet up in the air during your memorable helicopter flight. After taking off from Sydney Airport, you'll soar above the city of Sydney for unbeatable views of the world's most famous harbor and its icons …
» see all Sydney Air & Helicopter Tours
» Sydney Cruises & Water Tours
Experience the magic of Sydney Harbour at twilight on board an authentic tall ship. As you sail past Sydney's most iconic sights including the Sydney Opera House and Sydney Harbour Bridge, you will be transported back to the early 1800's when Sydney was still an infant colony. You'll be entertained throughout the cruise by many stories …
» see all Sydney Cruises & Water Tours
» Sydney Cultural & Theme Tours
Discover Sydney's colorful convict history and take in the sites of Sydney Harbour aboard a restored 1920s ferry. Travel to Goat Island, where you'll learn about Australia's convict history on a guided walking tour before enjoying a cold buffet lunch with complimentary sparkling wine. Board your restored 1920s Sydney ferry, the MV Mulgi, at Campbell's Cove, in Sydney's historical Rocks district …
» see all Sydney Cultural & Theme Tours
» Day Trips & Excursions from Sydney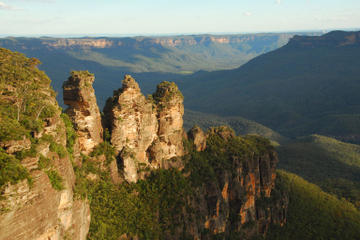 Head for the hills and experience the natural beauty of the Blue Mountains on this small group day trip from Sydney. Travel on a complete loop of the World Heritage listed Blue Mountains and see many hidden locations away from all other tourists. This unique small group tour offers the most amazing experience to the Blue Mountains National Park. You'll also come face to face with native Australian animals, such as kangaroos, Tasmanian devils, wombats and as well as a massive variety of birds and reptiles …
» see all Day Trips & Excursions from Sydney
» Extended Tours from Sydney
Get your snow fix this winter as you cut sick on the half-pipe or rip up the ski slopes on this snow adventure from Sydney. You'll be taken to either Thredbo or Perisher Blue, enjoy six full days at the snow including accommodation at the Snowy Valley Resort and breakfast daily. At Thredbo there is something for everybody …
» see all Extended Tours from Sydney
» Sydney Family Friendly Tours
Come nose to nose with animals of the world at Sydney Taronga Zoo - the zoo with the view! Situated on the foreshore of Sydney's magnificent harbor, Sydney Taronga Zoo has something for the whole family. Showcasing more than 350 different species, Sydney Taronga Zoo is home to native Australian wildlife and a diverse collection of exotic species …
» see all Sydney Family Friendly Tours
» Sydney Food, Wine & Nightlife Tours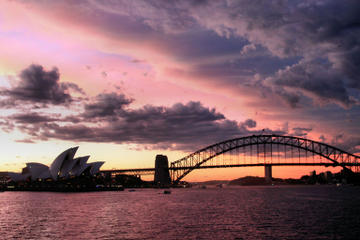 Treat yourself to a six star dining experience on Sydney Harbour. Cruise in luxury while dining on a six-course degustation dinner complimented by premium Australian wines. All this to the backdrop of world-famous Sydney Harbour. The six star personalized service commences from the moment you arrive with priority boarding and a welcome cocktail reception. Dinner is served on the Sky Deck. The degustation menu consists of six superb courses with accompanying wines from Australia's premier vineyards, and a full open bar …
» see all Sydney Food, Wine & Nightlife Tours
» Sydney Holiday & Seasonal Tours
Be part of the action this New Year's Eve on a romantic tall ship dinner cruise on Sydney Harbour. While cruising the harbor in a historic tall ship, join in the spectacular parade of illuminated boats and enjoy a privileged position on the water for Sydney's world-famous New Year's Eve fireworks at 9pm and midnight …
» see all Sydney Holiday & Seasonal Tours
» Sydney Outdoor Activities
See it all on the most comprehensive day tour from Sydney, including the Blue Mountains and Jenolan Caves. You'll be enthralled by the magnificent Three Sisters, the breathtaking canyon views, and enjoy visiting inside one of the magnificent limestone Jenolan Caves. Along the way, the Blue Mountains and their history will come to life …
» see all Sydney Outdoor Activities
» Sydney Private & Custom Tours
Tour the Hunter Valley in style on a private luxury tour of the region's artisanal wineries with an expert guide. Have an up-close encounter with Australian animals at a wildlife park, travel through pristine national parks and go wine tasting at the Hunter Valley's boutique wineries. For lunch, choose from fine modern Australian fare at Esca Bimbadgen restaurant or vineyard dining at a local boutique winery …
» see all Sydney Private & Custom Tours
» Sydney Shore Excursions
Take to the air by historic seaplane when your cruise ship is in port in Sydney, for stunning aerial views of Sydney's harbor and beaches. Flying from Rose Bay, choose from a 15-minute flight over the harbor, city center and Bondi Beach, or a 30-minute scenic flight over the harbor to the fabulous Northern Beaches. You also have the option to fly by seaplane to the Cottage Point Inn for a relaxed shore excursion lunch of celebrated modern Australian cuisine …
» see all Sydney Shore Excursions
» Sydney Shows, Concerts & Sports
A must-do Sydney Opera House experience for lovers of ballet! A guided tour of Opera House and 3-course dinner at either the Guillaume or Aria and an Australian Ballet Company performance. You can choose from performances such as Edge of Night, The Nutcracker, Madame Butterfly, The Merry Widow, British Liaisons and Romeo and Juliet …
» see all Sydney Shows & Concerts
» Sydney Sightseeing Tours
Climb Sydney Harbour Bridge for the ultimate Sydney experience! On a 3.5-hour guided Sydney BridgeClimb, your professional leader will take you along the outer arches of the bridge on catwalks and ladders up to the 440-foot (134-meter) summit, where you'll admire amazing 360-degree views of the city, the Sydney Opera House and the majestic Blue Mountains. This is one experience not to be missed! …
» see all Sydney Sightseeing Tours
» Sydney Tickets & Passes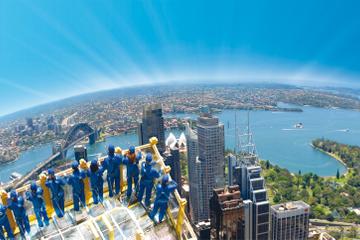 Rise to the challenge and experience Sydney's highest outdoor adventure. The Sydney SKYWALK at Sydney Tower Eye is an exhilarating and unique high altitude adventure that takes you 268 meters (880 feet) above the city. Step out on the glass-floored viewing platform that extends over the edge of Sydney Tower Eye and experience an adrenalin rush as you walk amongst the clouds with your experienced guide. With your insider knowledge and 360 degree views over Sydney's iconic landmark buildings, views to the ocean and out to the mountains will leave you breathless …
» see all Sydney Sightseeing Tickets & Passes
» Sydney Transfers & Ground Transport
Get your Sydney Airport Transfer from both the Domestic and International Terminals to your Sydney Hotel, operates 7 days a week, 365 days a year. It calls at major hotels and backpackers in downtown Sydney and surrounding suburbs. Submit a booking online and the transfer will be confirmed instantly …
» see all Sydney Transfers & Ground Transport
» Sydney Walking & Biking Tours
What could be more fun than touring the beautiful waterfront city of Sydney by bike? Your no-stress cycling tour takes you through Sydney's historic neighborhoods for unforgettable harbor views. Cycle over the Sydney Harbor Bridge, spot the Opera House, see the sites by night or do a quick highlights tour for those pressed for time …
» see all Sydney Walking & Biking Tours
» Sydney Water Sports
Surf the North Coast of New South Wales and live a surfers dream of freedom, travel, good waves and good times. Travel from either Sydney to Byron Bay or Byron Bay to Sydney and learn to surf some of Australia's most pristine beaches including famous Byron Bay. You'll learn all the basics of board surfing from your fully qualified surf instructor …
» Sydney Wine Tours
Leave Sydney for the day to taste award-winning regional foods and wines on a wine-tasting tour of the Hunter Valley, Australia's oldest wine-producing region. You'll enjoy private vineyard inspections, gain insights into the wine making process, purchase premium Hunter Valley wines and enjoy the beautiful Australian countryside …
• All Sydney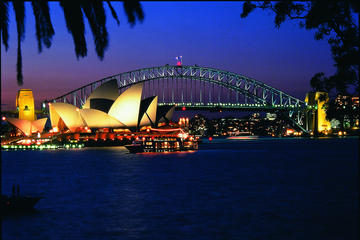 If you would like to view a complete list of all Sydney Tours, Travel & Activities, you can search for great things to do by category, location, traveller reviews or price to plan the perfect magical journey.
Click here for ALL Sydney Tours, Travel & Activities
« AUSTRALIA • Tours & Travel • New South Wales • Sydney