« CANADA • Things to See & Do • British Columbia • Victoria
Victoria Tours, Travel & Activities
Victoria is the capital of the province of British Columbia, Canada. It is located near the southern tip of Victoria Island. Nicknamed the Garden City for Butchart Gardens and much greenspace. With its mild temperatures and plentiful sunshine, Victoria boasts gardens that are home to many plant species rarely found in Canada.
» Victoria Air, Helicopter & Balloon Tours
Admire the spectacular panorama of downtown Victoria and the Strait of Juan de Fuca on this memorable half-hour seaplane trip. See the stunning rugged coastline and the inviting mountains in the distance. This is a small group tour with a maximum of 5 passengers per aircraft. his half-hour trip is an ideal introduction to seaplane aviation and includes spectacular vistas of Downtown Victoria and the Strait of Juan de Fuca …
» see all Victoria Air & Helicopter Tours
» Victoria Cruises, Sailing & Water Tours
Take a whale-watching tour from Victoria to spot orcas (killer whales), humpback whales, gray whales and minke whales. You'll also spot Dall's porpoise and harbor porpoise and enjoy Vancouver Island's spectacular scenery. Your whale-watching tour from Victoria is enhanced by the informative commentary provided by a trained naturalist …
» see all Victoria Cruises & Water Tours
» Victoria Food, Wine & Nightlife
You have to eat dinner somewhere, so make it a meal to remember at Butchart Gardens! This exceptional experience will have you flying by seaplane from Victoria to Butchart Gardens - a National Historic Site of Canada - where you'll enjoy a three-course meal of seasonal, regional cuisine. Then take a nighttime stroll through the lit-up gardens, including the Rose Garden, Japanese Garden and Mediterranean Garden, and soak up the tranquil atmosphere …
» see all Victoria Food & Nightlife
» Multi-Day & Extended Tours from Victoria
Experience the best of British Columbia's expansive wilderness and wildlife on this small-group, five-day, four-night tour. You can begin in either Vancouver or Victoria, and you'll have three full days of whale-watching, bear-viewing and exploring in Alert Bay, a picturesque town on Cormorant Island. No matter if you start in Vancouver or Victoria, you will return via plane to Vancouver …
» see all Extended Tours from Victoria
» Victoria Outdoor Activities
Feel like an eagle as you soar through British Columbia's temperate rainforest! Located on Vancouver Island, just 30 minutes outside of central Victoria, the zipline park is home to eight exhilarating ziplines covering more than 1,000 feet (305 meters). Your tour also includes a 10-minute ATV ride and two suspension bridges that will have you walking high above the forest floor. This small-group two-hour comes with not one, but two tour guides who will tell you about the surroundings …
» see all Victoria Outdoor Activities
» Victoria Shore Excursions
Make your port stop in Victoria unforgettable with a shore excursion that includes an exhilarating whale-watching trip and a visit to dazzling Butchart Gardens. Spot whales with the help of your naturalist guide on a 3.5-hour whale-watching tour from Inner Harbour around the Gulf Islands and San Juan Islands. Then, admire a wonderland of flowers while wandering through famous Butchart Gardens, a National Historic Site of Canada …
» see all Victoria Shore Excursions
» Victoria Sightseeing Tours
See the very best of the charming Provincial Capital of Victoria on a comprehensive city tour! If this is your first visit to Victoria, this 1.5-hour tour is a great way to get to know the city and its famous landmarks and history. During your tour, your experienced guide will provide a fascinating commentary on Victoria's rich history and scenic beauty, and there are numerous stops at points of interest for photo opportunities …
» see all Victoria Sightseeing Tours
» Victoria Tickets & Passes
The Royal BC Museum is one of the finest in Canada and a must-see attraction during your visit to Victoria. With ever-changing and evolving exhibits and galleries, this museum is perfect for the entire family. Explore British Columbia's natural and human artifacts in the museum's permanent galleries, plus prestigious traveling galleries …
» see all Victoria Tickets & Passes
» Victoria Transfers
Take a one-way high-speed passenger ferry from Victoria, British Columbia to Seattle, Washington. Sit back and relax on a scenic 2- to 3-hour cruise as you travel between Canada and the USA. Upgrade and add the round-trip option. Your trip begins at Victoria's Inner Harbor where you will board the Seattle-bound clipper …
» Victoria Walking & Biking Tours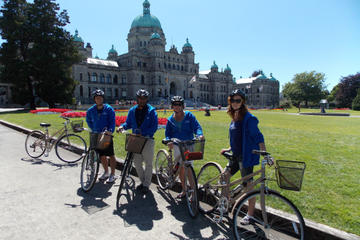 Weave your way along Victoria's atmospheric streets by bicycle as you learn about the history of British Columbia's charming capital on this 2-hour tour. Explore neighborhoods like Fernwood, Chinatown and Cook Street Village; cruise along picturesque bike paths through parks such as Beacon Hill and Moss Rock Parks; and pass by the glistening waters of the buzzing Inner Harbour. See Craigdarroch Castle, one of the tallest totem poles in the world and Victoria's famous breathtaking architecture …
» see all Victoria Walking & Biking Tours
• All Victoria
If you would like to view a complete list of all Victoria Tours, Travel & Activities, you can search for great things to do by category, location, traveller reviews or price to plan the perfect magical journey.
Click here for ALL Victoria Tours, Travel & Activities
« CANADA • Things to See & Do • British Columbia • Victoria