CANADA • Things to See & Do • Quebec • Montreal
Montreal Tours, Travel & Activities
Cities like Montreal don't happen very often. By day, Montreal bubbles with Eurocharm and North American pizzazz. After dark, its nightlife sizzles with creativity and abandon. It's the city of 100 nations, all lured by Montreal's intoxicating mix of Gallic tradition and "joie de vivre".
» Montreal Cruises & Water Tours
Welcome aboard for an urban cruise with a difference! Meet a historical character as you cruise aboard the Cavalier Maxim, hearing fascinating anecdotes. Enjoy a fresh look at history and geography as you follow in the wake of a legendary explorer and discover the charms of Montreal.Explore 35 kilometers of history along the St. Lawrence River …
» see all Montreal Cruises & Water Tours
» Montreal Cultural & Theme Tours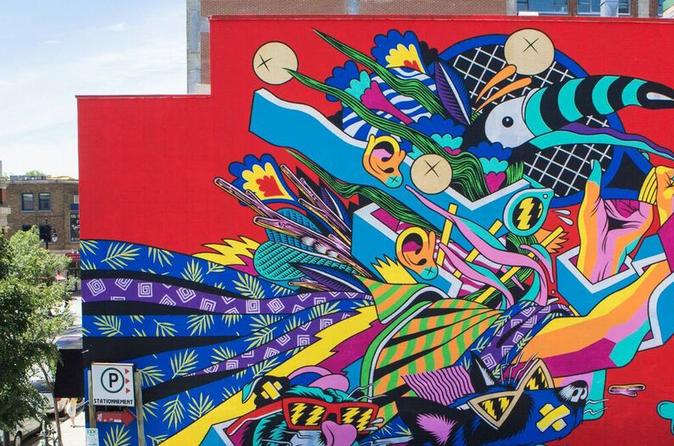 Over the last four years Saint-Laurent boulevard has been transformed into the country's premier street art corridor. Since the creation of the first MURAL Festival, Montreal has become a world leader in public art. Shortly after the founding of Montreal, the Main became an important dividing line between east and west. Thanks to the growing immigrant communities along the thoroughfare, the artery ironically created a gathering point for all citizens …
» see all Montreal Cultural & Theme
» Montreal Day Trips & Excursions
Visit the historic heart of French Canada on a day trip from Montreal to Quebec City. On your sightseeing tour, see famous landmarks including Place Royale, Notre Dame Basilica, the Parliament Building, Montmorency Falls and the Plains of Abraham as you explore quaint narrow streets filled with old-world charm, and learn about the city's fascinating French-Canadian history from your guide. Enjoy free time to walk through Old Quebec, a UNESCO World Heritage Site …
» see all Montreal Day Trips & Excursions
» Montreal Family Friendly Tours
Explore Montreal's Old Port in an easy and entertaining way - by quadricycle. A 4-wheeled non-motorized vehicle that's powered by pedaling, a quadricycle allows you to enjoy the fresh air, see Montreal's waterfront sights and cover more ground than you would by walking. It's similar to riding a bike, but you get to do it with your friends or family. Choose a 30- or 60-minute rental period …
» see all Montreal Family Friendly Tours
» Montreal Food, Wine & Nightlife Tours
Discover the delicious culinary delicacies of Old Montreal on this 2.5-hour food walking tour. Taste your way through Montreal's oldest district, making stops at quintessential bakeries, cheese shops, paté boutiques and more. This tour is a great way to get a feel for this area's rich cultural identity through its amazing food! …
» see all Montreal Food, Drink & Nightlife Tours
» Montreal Holiday & Seasonal Tours
Delight your taste buds with this small-group wine-tasting tour from Montreal to Quebec wine country. This tour is a unique winter experience that reveals the secrets behind one of the region's world-renowned products: ice wine. You'll take exclusive tours of three wineries, take an ice wine cocktail-mixing class, enjoy wine tastings, and savor a gourmet lunch …
» see all Montreal Holiday & Seasonal Tours
» Multi-Day & Extended Tours from Montreal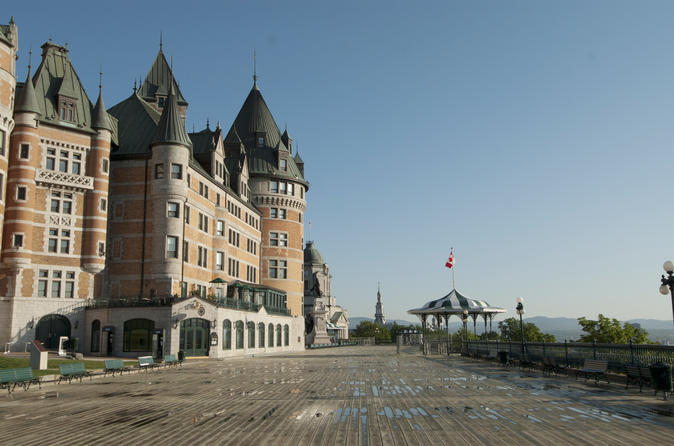 There is no better way to experience the best of Canada than by train. On this enchanting multi-day tour, visit two of Canada's most popular cities, Montreal and Quebec City, during the holiday time. Delight in the culture and cuisine of Montreal, and explore the charming and historic city of Quebec. Visit two of Canada's most popular cities during the holiday season. Your 6-day tour begins in Montreal, the second largest city in Canada, where you will spend two full days exploring the city …
» see all Multi-Day & Extended Tours from Montreal
» Montreal Outdoor Activities
When snow blankets Montreal and transforms the city into an idyllic winter scene, the whole family can experience the best the season has to offer on a 4-hour winter tour of Mount Royal, including ice skating and snowshoeing. Travel to the top of Mount Royal to glide around the frozen surface of Beaver Lake before strapping on snowshoes to explore the mountain's tree-lined trails and discover breathtaking views of the city below. Recharge with a warm lunch in the centuries-old Smith House & Museum …
» see all Montreal Outdoor Activities
» Montreal Shore Excursions
Make the most of your time in Montreal with this shore excursion before or after your cruise. Aboard a deluxe coach offering live commentary by a friendly guide, you'll see several top Montreal attractions and more than 200 points of interest such as Old Montreal, Montreal Harbor, Notre-Dame Basilica, Chinatown and Mt Royal Park. Port or hotel pickup and drop-off is included …
» see all Montreal Shore Excursions
» Montreal Sightseeing Tours
Create your own itinerary and set your own timetable with a two-day ticket on the Montreal City Hop-on Hop-off Tour. Get on and off as you please at any of the 10 stops, which include major attractions such as Notre Dame Basilica, Chinatown and Mount Royal Park. Travel on a double-decker bus as you tour Montreal at your own pace. This is the best way to experience a city you are not familiar with or only have a few days to spare …
» see all Montreal Sightseeing Tours
» Montreal Tickets & Passes
Get the best panoramic views of Montreal from 575 feet (175 meters) above and tour the site of the 1976 Olympic Games. Take a unique funicular ride up the side of the tower to reach the observatory and enjoy sweeping views over the city. The Montreal Tower Observatory is located in the highest inclined tower in the world, with an elevation of 575 feet …
» see all Montreal Tickets & Passes
» Montreal Transfers
Skip the stress and confusion of finding a taxi upon arrival at the Montréal-Pierre Elliott Trudeau International Airport. Instead, book this private airport transfer service and enjoy convenient, reliable, comfortable private transportation from the airport to your hotel in downtown Montreal, Nun's Island or near Longueuil Metro Station. When you land at the Montréal-Pierre Elliott Trudeau International Airport (YUL), simply call your professional driver for immediate pickup …
» Montreal Walking & Bike Tours
Tap into the zeitgeist of Montreal's food-truck phenomenon on this 3-hour bike tour. With an in-the-know guide leading the way, cycle to the insider track and discover food trucks that fly under the mainstream radar but deliver fine-dining results. During your laid-back 6-mile (10-km) ride, purchase tasty bites from trucks located in pleasant public squares, Old Port quays, tech-centric Cité du Multimédia, historic Place d'Armes and Quartier des spectacles …
» see all Montreal Walking & Bike Tours
» Montreal Water Sports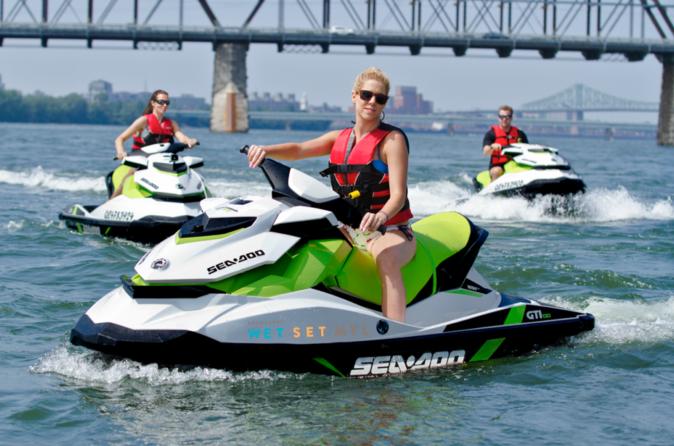 Follow your guide for a fun sightseeing ride on the Saint Lawrence River. Discover the river and its attractions, starting at Jacques-Cartier pier in the Old Port of Montreal. You'll have 15 to 25 minutes to jet ski freely, followed by a tour of St. Helene Island, la Ronde, and the Jacques-Cartier Bridge. All excursions include a guide, gasoline, liability insurance, a water-repellent suit, and a life vest …
» see all Montreal Water Sports
• All Montreal
If you would like to view a complete list of all Montreal Tours, Travel & Activities, you can search for great things to do by category, location, traveller reviews or price to plan the perfect magical journey.
» Click here for ALL Montreal Tours, Travel & Activities
CANADA • Things to See & Do • Quebec • Montreal