HOME • THAILAND • THAILAND TOURS & TRAVEL •

Koh Samui Tours & Travel
KOH SAMUI TOURS, TRAVEL & ACTIVITIES
Samui has a population of about forty thousand, and survives on a successful tourist industry, as well as exports of coconut and rubber. It even has its own international airport, with flights daily to Bangkok and other major airports in Southeast Asia. It has not forgotten its roots, however, and the people are still by-and-large the same easygoing island folk they were before the world landed on their doorstep.


Top Picks: KOH SAMUI TOURS, TRAVEL & ACTIVITIES

Jungle Tour on Koh Samui


Off the beaten track and through the jungles of Koh Samui is today's adventure tour. See the real jungle on this island from the back of an open top 4WD jeep. The roads are rough and unsurfaced, so hang onto your hats! We will take you through the jungle, across rivers and hidden valleys ...

---

Angthong National Marine Park Adventure


Discover the Angthong national marine park, cruise past several of the 42 islands and enjoy the natural beauty of this untouched region. After a one-hour ride, the first stop will be in the northern part of the marine park for some snorkeling. Continue sightseeing to the island of Koh Mae ...

---

Sea Kayaking at Angthong


Board a fully equipped 23 metre 3 level Escort boat. A light breakfast is served as we depart Koh Samui. Arrive Angthong National Marine Park and commence the first kayak trip traveling along the coastline of Koh Mae Koh. Along this course you will cruise beneath huge rock over hangings ...

---

Koh Tao and Koh Nangyuan Snorkeling


On board speedboats you will head out to the island of Koh Nang Yuan, here start your day by swimming, snorkeling or plain old fashioned sunbathing! Actually this island is really made of three smaller ones but they are all connected by a sandbank, which offers an unbroken stretch of clean white sand ...

---

Koh Samui Fishing Tour


Today's fishing spot is around two beautiful secluded Islands on the south side of Koh Samui. Start by trawling on the way to try to catch Barracuda, Cobia and Mackerel. Stop for some bottom fishing to try for Snapper and Long Tom. There are plenty of fish in this area and your experienced boat captain ...

---

Koh Samui Transfers


Professional, competent and reliable. From the moment you arrive, this service will provide a comfortable and efficient transfer from Koh Samui Airport to your Koh Samui hotel. The chauffeurs are carefully selected for their professionalism, knowledge and discretion. Transfers are available on shared or private basis ...
---
---
More Resources for Koh Samui Tours
---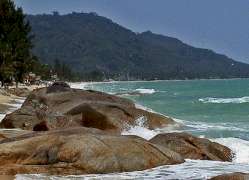 Samui Tours & Activities with Isango!

Isango! a the leading provider of destination experiences and experience-driven holidays - historic tours, sightseeing trips, romantic activities, family holidays, activity holidays, theme park visits, guided historical attractions and much more. 5000+ things to do in more than 60 countries ...

---

Samui Tours with DoSomethingDifferent.com
DoSomethingDifferent.com is the UK's most comprehensive resource for travellers looking for inspiration on 'what to do', once in their chosen destination. Exhilarating and attention grabbing Worldwide Attractions, Experiences, Activities and Attraction Tickets. For travellers everywhere. ...

---

KOH SAMUI HOTELS & ACCOMMODATION

THAILAND TOURS, TRAVEL & ACTIVITIES
---
---
HOME • THAILAND • THAILAND TOURS & TRAVEL •

Koh Samui Tours & Travel
Looking for something specific?
---
---
---