« USA • Discover the USA • Northeastern USA • New York • New York City
Discover Magical New York City
New York City is one of the global centers of international finance, politics, communications, music, fashion, and culture, and is among the world's most important and influential cities. It is home to a nearly unrivaled number of world-class museums, art galleries, and theatres. Some of the world's largest corporations have their headquarters here.
A | B | C | D | E | F | G | H | I | J | K | L | M | N | O | P | Q | R | S | T | U | V | W | X | Y | Z
» 9/11 Memorial & Museum
It is a rare greenscape in lower Manhattan, shaded by rustling white oaks that were chosen for their muted yellow hue come autumn. Two enormous fountains, designed by architects Michael Arad and Peter Walker, mark the footprints of the fallen towers with plunging waterfalls. These are surrounded by bronze parapets, engraved with the names of those lost. Personal tributes are welcome, and may be incorporated into the Memorial Museum …
» American Museum of Natural History
Located on Central Park West at 79th, the mission of the American Museum of Natural History is 'to discover, interpret, and disseminate information about human cultures, the natural world, and the universe through a wide-ranging program of scientific research, education, and exhibition.' The museum is expansive, and you can easily spend an entire day exploring it. Founded in 1869, the institution features space shows, an IMAX theater and permanent exhibitions …
» Apollo Theater
The Apollo Theater in the heart of Harlem is one of the world's most famous live music venues. Some of the biggest names in contemporary music have played the Apollo, including Duke Ellington, Charlie Parker, and the master of soul, James Brown. Hear jazz, blues or R&B, or come along on a Wednesday evening for the long-running Amateur Night. Stars who first flexed their talents as amateurs on the Apollo's legendary stage include Michael Jackson and Lauryn Hill …
» Battery Park
Located on the southern tip of Manhattan, Battery Park is a 25-acre public park sitting right on the New York Harbor. The attraction is named after the artillery batteries that were once positioned there for protection. When visiting, it's enjoyable to explore the many gardens, as well as admire the views of the Statue of Liberty and relax on a bench and listen to the water. While Battery Park gives visitors a chance to enjoy the outdoors, it also provides a glimpse into the past …
» Belvedere Castle
Designed in the late 1860s by architects Calvert Vaux and Frederick Law Olmstead and as part of their 'Greensward Plan' to beautify a then-young Central Park, this turret-topped castle of schist and granite stands atop Vista Rock, looking out on the woodlands of The Ramble, the Turtle Pond, and panoramic views of the Upper West Side. Originally built in 1865 as a Victorian Folly - a structure with no intended use beyond sheer delight - it would come to be used as both a weather station and a nature center …
» Bethesda Fountain
Located in Central Park on the lower level of Bethesda Terrace, Bethesda Fountain, or 'Angel of the Waters,' features a neoclassical eight-foot-bronze angel holding a lily on top of a tiered fountain. Bethesda Fountain is considered not only one of the most beautiful fountains in New York, but also in the world. It is one of the city's largest fountains, at twenty-six feet high by ninety-six feet wide. The angel, designed by Emma Stebbins, was the only sculpture commissioned as park of Central Park's original design …
» Bloomingdale's
In 1860, the Bavarian-born Bloomingdale brothers, Joseph and Lyman, began selling ladies' hoop skirts in a storefront on the Lower East Side; by 1872, they'd expanded their trade to a wider variety of European-made garments for both men and women, and moved their operations to a row house in then-unfashionable Midtown. Within a few years this area would become home to the Metropolitan Museum of Art, Central Park, St. Patrick's Cathedral …
» Broadway
Broadway, one of New York's most famous streets, runs the full length of Manhattan. However for most visitors to New York the name Broadway is synonymous with theater, musicals and first-run shows. Broadway more than any other street in America stands for entertainment. The heart of Broadway is the few blocks surrounding Times Square. Book Broadway tickets in advance for guaranteed seats and pricing …
» Brooklyn
Once you cross the Brooklyn Bridge, you'll begin to see that Brooklyn has a distinct culture and history from Manhattan and other boroughs of New York City. It's been said that "A trip to Brooklyn is like a trip around the world". Home to many immigrant populations, this part of the city is rich with ethnic restaurants and local shops, sure to give you a different perspective on the city. It's truly amazing how many people visit New York City and miss out on Brooklyn - don't be one of them! …
» Brooklyn Brewery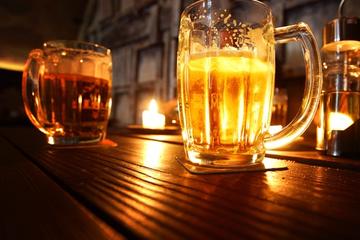 While the first beer was brewed in Brooklyn in 1822, this homegrown brewery founded in 1988 by a couple of neighbors, led the charge towards a new trend in borough-local micro-brewing. While it began with just a single lager, Brooklyn Brewery's lineup now includes a pilsner, an IPA, a brown ale, a few seasonal brews, and a number of rotating small-batch brews. These days, the Brooklyn Brewery label is ubiquitous in the pubs, tavern and markets of New York City …
» Brooklyn Bridge
New York's most famous bridge crosses the East River from Manhattan to Brooklyn. Taking a walk across this historic suspension bridge is a must-do NYC activity, with fabulous views on every side. Built in the 1870s and '80s, the Brooklyn Bridge was one of the first suspension bridges to be constructed in the USA. At the time, it was the longest suspension bridge in the world. The soaring Gothic towers at either end are particularly dramatic when floodlit at night …
» Brooklyn Heights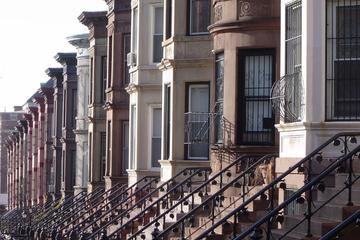 Known as the 'first suburb of America,' Brooklyn Heights is a mere five minutes from Manhattan on the subway and maintains its unique character and historic charm in its fast-moving city. With rows of brownstones and mansions, tree-lined streets and perhaps the best possible views of the New York City skyline, it's easy to see why Brooklyn Heights is a coveted neighborhood. Stretching from Old Fulton Street near the Brooklyn Bridge south to Atlantic Avenue and east from the river to Court Street …
» Brooklyn Navy Yard
Set on the Brooklyn shore of the East River's Wallabout Bay, directly between the Manhattan and Williamsburg Bridges, this shipyard was once America's largest. Utilized by the U.S. Navy since 1801, it saw the building of some of the country's most renowned fighting ships, including the USS Maine and USS Missouri. Remaining attractions within the Yard include a 24-acre Naval hospital campus and a dry dock that pre-dates the Civil War and is still in use …
» Bryant Park
Located between 40th and 42nd Street and Fifth and Sixth Avenues, Bryant Park encompasses 9.6 acres of public green space and recreation. For those looking for a respite from the bustling city, Bryant Park provides a relaxed atmosphere with historical monuments, colorful flower beds, London plane trees, the 300-foot lawn and the Southwest Porch lounge where you can relax on rockers and swings and enjoy free wireless …
» Cafe Wha?
Located at 115 MacDougal Street in Greenwich Village, Cafe Wha? is a historic bar known for being the career birthplace of many well-known musicians and comedians. Open since the 1950s, some artists who consider Cafe Wha? a home include Bob Dylan, Jimi Hendrix, Bruce Springsteen, Woody Allen, Lenny Bruce, Bill Crosby and Peter, Paul & Mary, to name a few. Although it's gone through many changes over the years, you can expect high energy music in an informal atmosphere …
» Carnegie Hall
Located at 881 Seventh Avenue in Midtown West, Carnegie Hall is a prestigious concert venue known for being an important cultural institution as well as a space where many notable musicians were able to break out. Opened in 1891, it is the place where Judy Garland made an album that won five Grammys in 1961, Benny Goodman elevated the status of swing music and produced one of history's greatest-selling jazz albums in 1938, and Dr. Martin Luther King Jr., gave his last major public address of all time in 1968 …
» Carroll Gardens
A gracefully gentrified neighborhood in South Brooklyn, Carroll Gardens was originally considered part of more working-class Red Hook, just a few blocks to the south across the Brooklyn-Queens Expressway. First settled by Dutch farmers, then Irish, Italian and Norwegian merchants, and now a combination of French immigrants, American yuppies and aging couples, this evolving area retains traces of all its past inhabitants. Most renowned for what it has preserved …
» Central Park
Central Park, a huge rectangular slice of oxygenating greenness, is New York City's lungs and soul. Taking up a mammoth 843 acres in Uptown Manhattan, Central Park is laced with walkways, jogging paths, and woodlands. Not just a place for relaxation, Central Park is also home to a zoo, skating rink, theater, reservoir, boating lake, fountains, bridle paths, and a carousel. If you're feeling peckish after all that activity, drop into the Loeb Boathouse for a buffet brunch or dinner …
» Chelsea
Located on the West Side between 14th and 29th Streets and Broadway and the Hudson River, Chelsea is Manhattan's art mecca. Renowned for having the highest concentration of art galleries in the city, visitors can easily spend the day browsing free-to-enter creative spaces, especially on 20th through 29th streets between Tenth and Eleventh Avenues. Some notable galleries to check out include the Barbara Gladstone Gallery featuring contemporary pieces from big names …
» Chelsea Market
Built in the former home of the National Biscuit Company (where the Oreo was born), this Chelsea landmark was opened in 1997 as a multi-purpose market and business complex. A foodie haven, the Market is home to some of the most sought-after treats in New York City (including Jacques Torres Chocolate), as well as a handful of acclaimed restaurants (like sushi hotspot Morimoto), and the studios and offices of the Food Network …
» Chelsea Piers
History, recreation and leisure come together at Chelsea Piers, a group of four historic piers on the Hudson River. Some of the most famous ocean-going liners tied up at these docks, including the Lusitania; but these days Chelsea Piers is making waves as an entertainment and sports activities precinct. You can have a go at more than 30 different sports at Chelsea Piers. Tee off with a round of golf at the Golf Club, work out in the Sports Center health club …
» Chinatown
New York's Chinatown is a heady blend of cafes, sidewalk food stalls, street vendors, and traditional herbal medicine shops. There's more than 150 years of history to explore in this fascinating ethnic enclave, including the Museum of Chinese in America and a Mahayana Buddhist temple. Bargain for not-quite-right perfumes and handbags, dine on dim sum at an authentic Chinese tea house, shop for exotic Chinese antiques, and find unusual ingredients …
» Chrysler Building
The Chrysler Building is an outstanding example of flamboyant Art Deco architecture, in all its glory. A riot of shiny automobile-inspired curves and radiator-cap gargoyles, the 77-story skyscraper was built from 1928 to 1930. Its most striking feature is its pointed, zigzag-detailed crown and spire. You can enter the lobby to gaze at the Art Deco splendor of its murals, but with no observation deck, that's as far as it goes for visitors …
» Coney Island
Located in southern Brooklyn, people head to Coney Island for its famous hot dogs, amusement park and popular beach and boardwalk. Coney Island has been attracting visitors since the 1830s -- especially Manhattan residents who thought it to be easily accessible but still far enough to be a getaway. The destination's most notable feature is its many rides, circus sideshows and carnival games at Luna Park, Deno's Wonder Wheel Amusement Park, Scream Zone …
» Conservatory Garden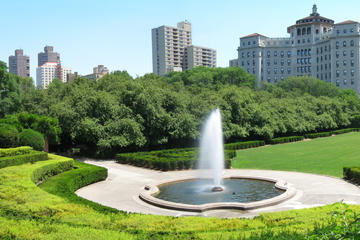 The Conservatory Garden, located within Central Park, is a serene escape from the fast-paced urban life of Manhattan. It takes its name from a conservatory that stood on site until 1934 but is now a collection of fountains, sculptures and pathways through landscaped lanes. Spread across six acres, the garden is divided into three distinct areas influenced by French, Italian and English styles. It is also a designated 'quiet zone' that has become known as almost a secret garden to many. The area is free of runners, bicyclists and dogs, and is a popular place for weddings …
Page 1 • Page 2 • Page 3 • Page 4
« USA • Discover the USA • Northeastern USA • New York • New York City