« INDIA • Tours & Travel • New Delhi
New Delhi Tours, Travel & Activities
Don't let your first impressions of Delhi stick like a sacred cow in a traffic jam: get behind the madcap façade and discover the inner peace of a city rich with culture, architecture and human diversity, deep with history and totally addictive to epicureans. Both Old and New Delhi exert a beguiling charm on visitors.
» New Delhi Cultural & Theme Tours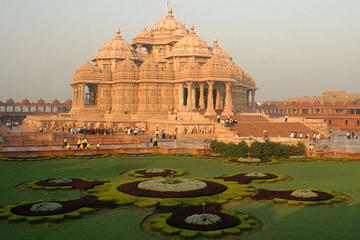 Explore the top spiritual attractions in the walled city of Old Delhi with a private guide during this 6-hour tour. Begin the day at the surprisingly high-tech Akshardham Temple, and then go back in time at four holy sites in Old Delhi: Jama Masjid, Gurudwara Sis Ganj Sahib, Digambar Jain Lal Mandir and St James Church. You'll also pass through Chandni Chowk, Delhi's largest and oldest market, and see the Red Fort from the outside. A private vehicle provides a comfortable ride during the tour …
» see all New Delhi Cultural & Theme Tours
» New Delhi Day Trips & Excursions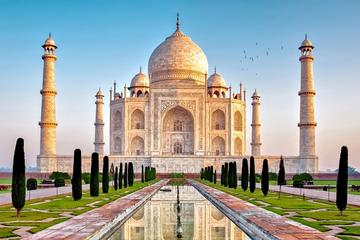 Walk back in time and discover the glory of the Mughal Empire on this private day trip to Agra from Delhi with a private car, driver and experienced guide. Experience the architecture of the Mughal Empire by exploring Agra's UNESCO World Heritage Sites: the famous Taj Mahal, Agra Fort, Itmad-ud-tullah and Mehtab Bagh. After the Taj Mahal you will visit Agra Fort, one of the finest Mughal forts in India. Agra Fort, built by Emperor Akar in 1565, is a massive red sandstone fort on the bank of Yamuna River. Your guide will explain the history of Agra Fort …
» see all New Delhi Day Trips & Excursions
» New Delhi Food, Wine & Nightlife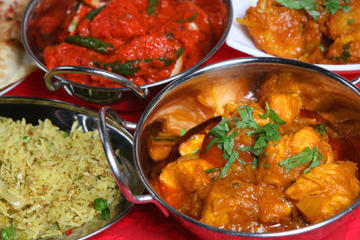 Immerse yourself in Indian culture and dine with a local family. This is an opportunity to learn more about local life, Indian lifestyle, the traditions of home life and the importance of family in Indian culture, arranged marriages and of course, the food. As dinner is being prepared, your guide will provide an insight into Indian family life. You'll dine on a traditional Indian home-cooked meal which will be predominantly vegetarian and sure to tantalize your taste buds. This is not just a meal, but a dining experience in a family home, an opportunity to experience Indian hospitality…
» see all New Delhi Food, Wine & Nightlife
» New Delhi Multi-Day & Extended Tours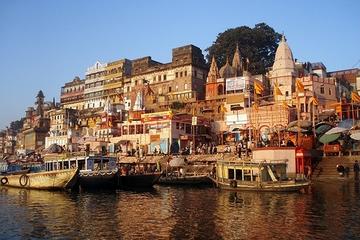 Discover the best of Varanasi and Khajuraho on a private 5-day tour from Delhi. Visit Varanasi, the most sacred city in India, and see where Hindus practice their spiritual rituals before heading to Khajuraho to view the impressive temples with intricate carvings. Discover the holy city of Varanasi, an important pilgrimage destination for Hindus for thousands of years. Take an early morning boat cruise on the sacred Ganges River and witness the daily rituals. See the long string of ghats (steps) that line the river, where locals practice yoga and Hindus perform morning prayers before bathing in the river to wash away their sins …
» see all New Delhi Multi-Day & Extended Tours
» New Delhi Outdoor Activities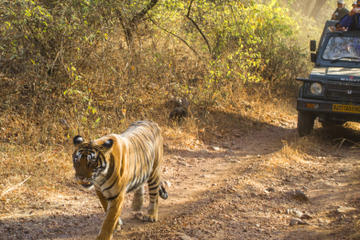 xperience a thrilling safari in India's Ranthambore National Park, and be on the lookout for the famed Bengal tigers and other amazing wildlife during two expertly guided game drives. As you enter the depths of the jungle by Jeep, your naturalist guide informs you about the life cycle and habits of the majestic animals around you. This 2-night private tour departs from Delhi by overnight train, with one night's accommodation in a comfortable sleeper car and one night at a 3-star hotel in Ranthambore - one of the best locations in India to see the big cats in their natural habitat …
» see all New Delhi Outdoor Activities
» New Delhi Private Tours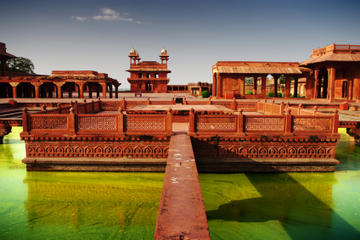 Experience the grandeur of India on a private tour to the magical Taj Mahal, the massive Agra Fort, the winding backstreets of Agra and the fortified ghost city of Fatehpur Sikri. Accompanied by your own private guide, you'll enjoy personalized attention as you travel by private air-conditioned vehicle. The World Heritage-listed Taj Mahal was built by Mughal Emperor Shah Jahan in the 17th century, during a golden era of art and architecture in India. The world's most extravagant monument built for love was constructed as a tomb for Shah Jahan's beloved wife …
» see all New Delhi Private Tours
» New Delhi Shows & Concerts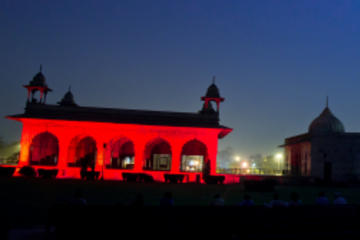 Relive the history of Delhi and the Mughal Empire during this spectacular sound and light show at the UNESCO World Heritage-listed Red Fort. Watch the recreation of 300 years of India's history as the Red Fort, a magnificent symbol of Mughal power, is illuminated with special light effects and animated with accompanying music and narration. Dine on a magnificent spread of traditional Indian cuisine …
» see all New Delhi Shows & Concerts
» New Delhi Sightseeing Tours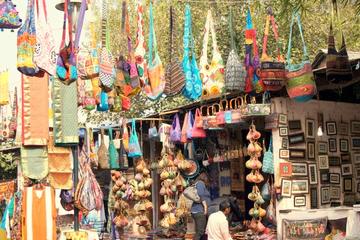 A market tour with a difference - this not just a shopping tour, but a tour of experiences. On this full day market tour, experience the sights, smells and sounds of Delhi's bustling markets. Choose 3 or 4 of Delhi's most interesting markets where you can shop for arts and crafts, trinkets, clothes or electronics - you are sure to find what you are looking for, or even what you didn't know you were looking for. Each market has a unique and special ambiance. Most markets have places to eat, and you will have opportunities to sample local cuisine as well as cuisines from around the world …
» see all New Delhi Sightseeing Tours
» New Delhi Tickets & Passes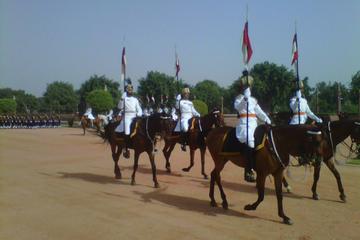 Admire the stately Changing of Guard ceremony within the gates of Rashtrapati Bhavan in Delhi before visiting one of two museums for a self-guided tour. Watch the President's Body Guard - a military regiment of the Indian Army - and their cavalry horses perform ceremonial duties in full regalia. Then, head to either the National Museum or the National Rail Museum to view fascinating exhibits on India's art or rail history - depending on which option you choose …
» see all New Delhi Tickets & Passes
» New Delhi Transfers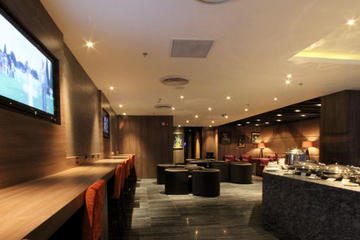 Need a place to relax before your departure from Delhi? The Plaza Premium Airport Lounge provides you with a comfortable oasis to stay before boarding your domestic or international flight. Check your email on the wireless network, enjoy delicious hot food and beverages and take a refreshing shower. You have the flexibility of selecting from several options depending on the length of time you need. Sit back and unwind in the Plaza Premium Airport Lounge at Indira Gandhi International Airport before catching your departure flight. Make yourself at home as you enjoy the superior service …
» see all New Delhi Transfers & Ground Transport
» New Delhi Walking & Bike Tours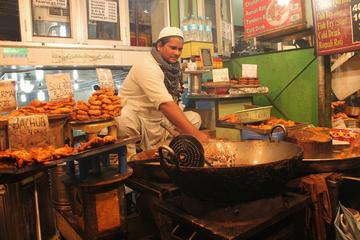 Immerse yourself in the vibrant culture of Old Delhi on a This unique tour takes you to a different part of the world, on a visit to a bazaar and the local culture of Delhi. Discover Chandni Chowk (Moonlight Square), without doubt the busiest market area in Delhi. It dates back to 1638, when Emperor Shahjahan shifted his capital from Agra to Delhi and his daughter Jahanara constructed a square, around which a busy market grew walking tour through some of its biggest markets, including the massive Chandni Chowk market, enjoy visiting the Jama Masjid mosque, and enjoy a traditional dinner at a local restaurant …
» see all New Delhi Walking & Bike Tours
• All New Delhi Tours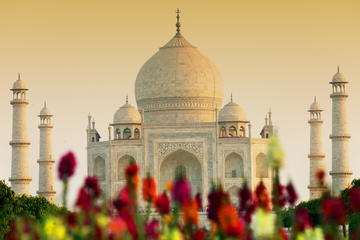 If you would like to view a complete list of all New Delhi Tours, Travel & Activities, you can search for great things to do by category, location, traveller reviews or price to plan the perfect magical journey.
Click here for ALL New Delhi Tours, Travel & Activities
« INDIA • Tours & Travel • New Delhi