HOME • INDONESIA •

INDONESIA HOTELS
INDONESIA HOTELS, VILLAS & RESORTS
Indonesia is almost unimaginably vast. There are over 18,000 islands in Indonesia and more than 100,000 km of beautiful beaches. The distance between Aceh and Papua is more than 4,000 Km (2,500 miles). There are more than 400 volcanoes in Indonesia - with 130 considered active.
Quick Links

Jakarta Hotels
Seminyak Hotels
Ubud Hotels
Kuta Hotels
PLACES TO STAY IN INDONESIA: Bandung, Jakarta, Kuta, Legian, Lombok, Manado, Medan, Sanur, Semarang, Seminyak, Surabaya, Ubud, Yogyakarta,
INDONESIA HOTELS, RESORTS & ACCOMMODATION


BANDUNG Hotels & Accommodation


Bandung is the capital of West Java province in Indonesia, and the country's fourth largest city. Located 768 m (2,520 ft) above sea level, Bandung has relatively year-around cooler temperature than most other Indonesian cities. The city lies on a river basin and surrounded by volcanic mountains ...
---


JAKARTA Hotels & Accommodation


Jakarta is the capital of Indonesia. While initially a bit overwhelming, if you can withstand the pollution and can afford to indulge in her charms, this is one of Asia's most exciting cities. There is plenty to do in Jakarta, from cosmopolitan shopping at Plaza Senayan to one of the hippest nightlife scenes in Southeast Asia ...
---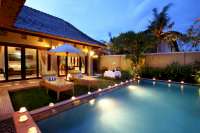 KUTA Hotels & Accommodation


Kuta is administratively a district (kecamatan) and subdistrict/village (kelurahan) in southern Bali, Indonesia. A former fishing village, it was one of the first towns on Bali to see substantial tourist development, and as a beach resort remains one of Indonesia's major tourist destinations. It is known internationally for its long sandy beach, varied accommodation ...
---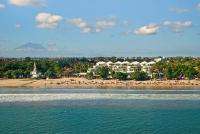 LEGIAN Hotels & Accommodation


Legian is a suburban and beach area on the west coast of Bali just north of Kuta and south of Seminyak the area between Jl. Melasti and Jl. Dhyana Pura ...

---


LOMBOK Hotels & Accommodation


Lombok is an island in the West Nusa Tenggara province of Indonesia. The more Islamic culture in Lombok compared than Bali may explain the reason why Lombok is quieter than Bali in terms of parties and nightlife, which can be either a positive or a negative depending on your point of view. Popular for honeymooners ...
---


MANADO Hotels & Accommodation


Manado is the capital of the North Sulawesi province of Indonesia. Manado is located at the Bay of Manado, and is surrounded by a mountainous area. The Dutch East India Company built a fortress in Manado in 1658. As the largest city in the region, Manado is a key tourist transit point for visitors ...
---


MEDAN Hotels & Accommodation


Medan is the capital of the province of North Sumatra, Indonesia. Located in the northern part of the province along the coast, Medan occupies 265,10 km2, making it the third largest city in Indonesia. The city is bordered by Deli Serdang Regency to the east, south, and west, and the Strait of Malacca to the north ...
---


SANUR Hotels & Accommodation


Sanur is a coastal stretch of beach of Denpasar city of south east Bali, about 30 minutes drive from Ngurah Rai International Airport, which has grown into a little town in its own right. The northern part of Sanur beach was used as the landing site for the Dutch invasion troops during the Dutch intervention in Bali (1906) ...
---


SEMARANG Hotels & Accommodation


Semarang is a city on the north coast of the island of Java, and capital of the province of Central Java. It is Indonesia's fifth largest city with approximately 1.5 million. A major port during the Dutch colonial era, and still an important port today, the city is known in Indonesia for its large ethnically Chinese population ...
---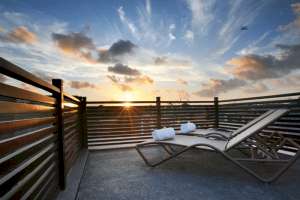 SEMINYAK Hotels & Accommodation


Seminyak is a mixed tourist / residential area on the west coast of Bali just north of Kuta and Legian. Originally a separate township, this is now just another suburb of Kuta. This area is very popular with resident expatriates and land and accommodation prices are amongst the highest in Bali. Plenty of luxury spas and hotels abound ...
---


SURABAYA Hotels & Accommodation


Surabaya is Indonesia's second-largest city, and the capital of the province of East Java. It is located on the northern shore of eastern Java at the mouth of the Mas River and at the side of the Madura Strait. The city is one of the busiest ports in the country. It has a large shipyard, and numerous specialized naval schools ...
---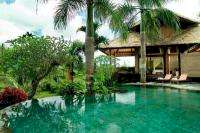 UBUD Hotels & Accommodation


Ubud is a town on the Indonesian island of Bali in Ubud District, located amongst rice paddies and steep ravines in the central foothills of the Gianyar regency. One of Bali's major arts and culture centres, it has developed a large tourism industry. The town was originally important as a source of medicinal herbs and plants ...
---


YOGYAKARTA Hotels & Accommodation


Located within the Yogyakarta province, Yogyakarta city is known as a center of classical Javanese fine art and culture such as batik, ballet, drama, music, poetry and puppet shows. It is also famous as a center for Indonesian higher education. At Yogyakarta's center is the kraton, or Sultan's palace ...
---

INDONESIA TOURS, TRAVEL & ACTIVITIES
---
---
HOME • INDONESIA •

INDONESIA HOTELS
Looking for something specific?
IN THIS SECTION:
... INDONESIA HOTELS & RESORTS
Bandung, Jakarta, Kuta, Legian, Lombok, Manado, Medan, Sanur, Semarang, Seminyak, Surabaya, Ubud, Yogyakarta,


KEY SECTIONS you may also like:
Discover
Indonesia
Indonesia
Tours
---
---
---