HOME • INDONESIA • INDONESIA TOURS
INDONESIA TOURS, TRAVEL & ACTIVITIES
Indonesia is the sleeping giant of Southeast Asia. With 18,110 islands, 6,000 of them inhabited, it is the largest archipelago in the world. With well over 210 million people, Indonesia is by far the largest country by population in Southeast Asia. Indonesia is the 4th most populous country in the world, after China, India and US. The tropical forest in Indonesia is the second largest in the world after Brazil.


Quick Links

Day Trips
Outdoor Activities
Cruises
All Tours
Top Picks: BALI TOURS, TRAVEL & ACTIVITIES

Bali Hai Sunset Dinner Cruise


There's no better way to spend a balmy tropical evening than on Bali Hai's evening Dinner Cruise around the Benoa Harbour. As the sun goes down set off on a relaxing cruise whilst enjoying a delicious international buffet dinner. Upon boarding the vessel you are welcomed with a souvenir photo ...

---

Bali Hai Lembongan Island Reef Cruise


Cruise in air-conditioned comfort and style aboard the 'Bali Hai II', travel across the Badung Strait to Lembongan Island, a small and low, protected island approximately 11 kilometers southeast of mainland Bali, ringed with mangrove swamps, palms and white sandy beaches ...

---

Barong Kintamani Lake and Volcano


The perfect introduction to Bali's fascinating culture and handicrafts, picturesque rice paddy fields, traditional villages and a spectacular lake and volcano. Your journey takes you to Batubulan, known for its stone carving and ornate temples, here you will see the exciting Barong Dance ...

---

Bali Monkey Forest, Mengwi Temple


On this tour you will take journey into the countryside by coach and make a stop to take a short walk (approx. 300 meters) through Scenic Terraced Rice Paddies. Cultivated in unique Balinese style, surrounded by coconut trees and tropical horticultural plants including sweet potatoes and tapioca ...

---

Bali Hai Lembongan Island Beach Club Cruise


Experience the unspoilt charms of a peaceful tropical island with a Bali Hai Beach Club Cruise. After cruising in comfort to Lembongan Island aboard the luxury catamaran 'Bali Hai II', you are transferred to a private Beach Club. Here you can relax on golden sands, lie back in the shade of the tranquil gardens ...

---

North Coast of Bali Mountain Tour


Explore the tranquil rural countryside of Bali as you travel the whole length of the island, journeying through the central mountains to Singaraja and Lovina Beach on the North Coast. In the mountains, vegetation changes and you'll see cabbages, maize and potatoes. Higher still, the countryside is alpine ...

---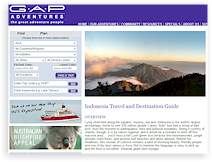 G Adventures to Indonesia
Lying stretched along the equator, steamy, volcanic Indonesia is the world's largest archipelago, home to over 230 million people. Lately "Indo" has had a string of bad luck, from the tsunami to earthquakes, fires and political instability. Being a country of islands, though, it is by nature regional, and it would be a mistake to write off this massive area ... you'd miss a lot! Lush green rice terraces line mountainsides ...
---

INDONESIA HOTELS, RESORTS AND ACCOMMODATION
---
HOME • INDONESIA • INDONESIA TOURS
Looking for something specific?
IN THIS SECTION:
... INDONESIA TOURS & TRAVEL
BALI
Cruises, Sailing & Water Tours,
Cultural Tours, Day Trips & Excursions,
Food & Nightlife, Outdoor Activities,
Shows & Concerts, Tours & Sightseeing, Transfers & Ground Transport,
Walking & Biking Tours, Water Sports,


KEY SECTIONS you may also like:
Discover
Indonesia
Indonesia
Hotels
---
---