« home • asia • JAPAN • Tours & Travel • Hiroshima
Hiroshima Tours, Travel & Activities
Don't miss Miyajima Island when visiting Hiroshima! Miyajima, also called "Island of Gods" is one of the most scenic spots in Japan. This rickshaw tour offers not only the special experience for traditional Japanese rickshaw ride, but also a visit to the famous Itsukushima Shrine. Listed as an UNESCO World Heritage Site, Itsukushima Shrine is famous for its "floating" torii gate in red.
» Hiroshima Cultural & Theme Tours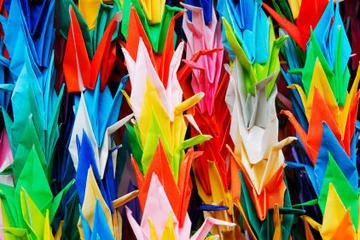 Explore World Heritage sites in Hiroshima and Miyajima in one day! Miyajima is famous for its Itsukushima Jinja Shrine. Its red torii gate appears to be standing in the sea during high tide. Walk through the Hiroshima Peace Memorial Park, dedicated to promoting peace around the world. Miyajima (literally 'shrine island') has been celebrated as a sacred island and one of Japan's three most scenic views. It is most famous for Itsukushima Shrine, which, together with its large wooden torii (gate), stands in the ocean during high tide …
» all Hiroshima Cultural Tours
» Hiroshima Private & Custom Tours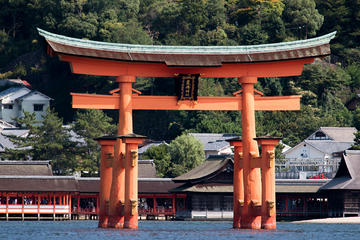 Come see the rich culture of Hiroshima and breath taking view of Miyajima! There is a big Torii gate on the ocean at Miyajima island which is famous for Itsukushima shrine, one of world heritage sites in Japan. This is a private tour by a chartered vehicles. Using this service, you can charter your vehicle Limousine, Van, or Bus which is most suitable for your group and visit many attractive sightseeing spots. You don't have to hurry for any other tourist. This tour is only for your group! …
» all Hiroshima Private & Custom Tours
» Hiroshima Sightseeing Tours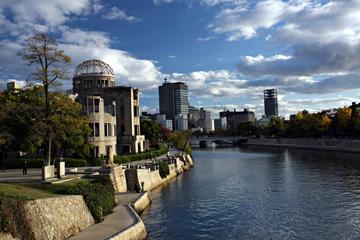 Depending on the season, Miyajima is also famous for cherry blossoms in the spring and maple trees in the fall. Try the delicious oysters in the winter. The lovely deer taking a stroll will welcome you. Please visit Miyajima when you come to Hiroshima! You cannot miss Miyajima Island as one of the three most scenic spots in Japan where the UNESCO World Heritage Site Itsukushima Shrine is located. Itsukushima Shrine is built over water and famous for its "floating" torii gate in red …
» all Hiroshima Sightseeing Tours
• All HIROSHIMA

If you would like to view a complete list of all Hiroshima Tours, Travel & Activities, you can search for great things to do by category, location, traveller reviews or price to plan the perfect magical journey.
Click here for ALL Hiroshima Tours, Travel & Activities

« home • asia • JAPAN • Tours & Travel • Hiroshima